ColoRADo - Part II
I started this post on the eve of heading to Thailand and Nepal, in an attempt to pull together our memories from Colorado this August. We liked CO last October but loved it even more this time around. The Rockies served as our (breathtaking) training grounds for a 15 day Himalayan trekking adventure we were heading out for in September! The Rocky Mountains at the end of summer was the perfect time for us to test our legs and lungs before attempting to summit peaks over 17,000' in Nepal.
Grand Junction, CO
Before reaching the family of 14ers near Denver, we stopped in Grand Junction, CO. This town was a hidden gem for us. Located on the west side of CO, Grand Junction is close to our favorite landscape in southern Utah and is a bit less discovered than other towns we have spent time exploring in Colorado. Palisade, CO is also nearby which is home to beautiful orchards, gardens and vineyards.
CAMPGROUND: Fruita Section Campground - close to the small town of Fruita and CO River. Also provides great access to the Colorado National Monument.
EATERY: Hot Tomato - casual spot with yummy pizza and local brews.
BREWERY: Copper Club in Fruita - another casual local joint with games, free pretzels and nuts. Try their Moonlight Rye and 18 Road IPA.
HIKING: Anything/everything in Colorado National Monument. We also took a day trip to Grand Mesa. It took us a little over an hour to get there with close to 5,000' of elevation gain. The drive is beautiful and this hike is well worth the effort. The Crag Crest Trail is a 10.5 mi RT loop with 1,500' elevation gain. The trail is really well done, go counterclockwise, views are breathtaking.
Colorado National Monument
Dillon, CO
After a few days in Grand Junction we were off to Dillon, CO. This town is a ski lovers paradise but more importantly doubles as a hikers paradise in the summer! We spent a little over three weeks here and only hit about half of the big hikes in the area. Surrounding towns include Frisco, Silverthorne, Keystone and Breckenridge and Lake Dillon offers some of the best sailing outside of San Fran (according to locals ;). Dillon was a perfect homebase for us and offered great training options as we prepared for the 17,000'+ peaks of the HImalayas.
CAMPGROUND: Lowry Campground - one of the only campgrounds in the area with electricity. Also very close to the bike path that connects Keystone, Frisco, Silverthorne and Breckenridge.
EATERY: Sauce on the Blue - delicious italian restaurant right on the Blue River.
BREWERY: Westbound & Down Brewery - this one is located in Idaho Springs, CO but is worth a trip (and it also is on the way back from several hikes in the area). "Dont Hassle the Hef" and "CPA" (Colorado Pale Ale) were our favorites. The food at the Buffalo nextdoor also looked great.
HIKING: Our top five hikes are below however trails in this area are endless. They can easily keep you busy for months. Inspiration is everywhere so conquer whatever feels right. Be sure to watch the weather carefully when hiking over 13,000' as conditions can change very quickly.
Close to Brek, this trail is short and steep, you will average 1,000' per mile. Views are well worth the effort. Grab a post hike pizza from Hangar and take it to Broken Compass Brewery. Your body deserves it.
Summit: 14,265'
7 mi RT
3,500' elevation gain
Entire hike is beautiful, summit views of Front Range Mountains are breathtaking. Pretty popular hike, parking can be an issue so start early.
Summit: 14,060'
7 mi RT
2,850' elevation gain
Farther from Dillon, CO along a beautiful highway. Expect mountain goats and a less traveled trail. You can however drive to the top so summit can get a bit crowded but don't let that deter you from this peak.
Summit: 14,264'
4.5 mi RT
2,000' elevation gain
You can combine these two summits or take them one at a time. The trail starts off with a hefty uphill from Loveland Pass (11,000') and then will fork. To the left is Grizzly and to the right, Sniktau. I recommend both but don't miss Sniktau. From the trail you can see three ski resorts: Arapahoe or "A" Basin, Keystone, and Breckenridge. If its a clear day look for neighboring Torreys Peak at 14,275'.
Grizzly Summit: 13,427' + Sniktau Summit: 13,234'
Grizzly: 6 mi RT + Sniktau: 4mi RT
Grizzly: 2,900' elevation gain + Sniktau: 1,673'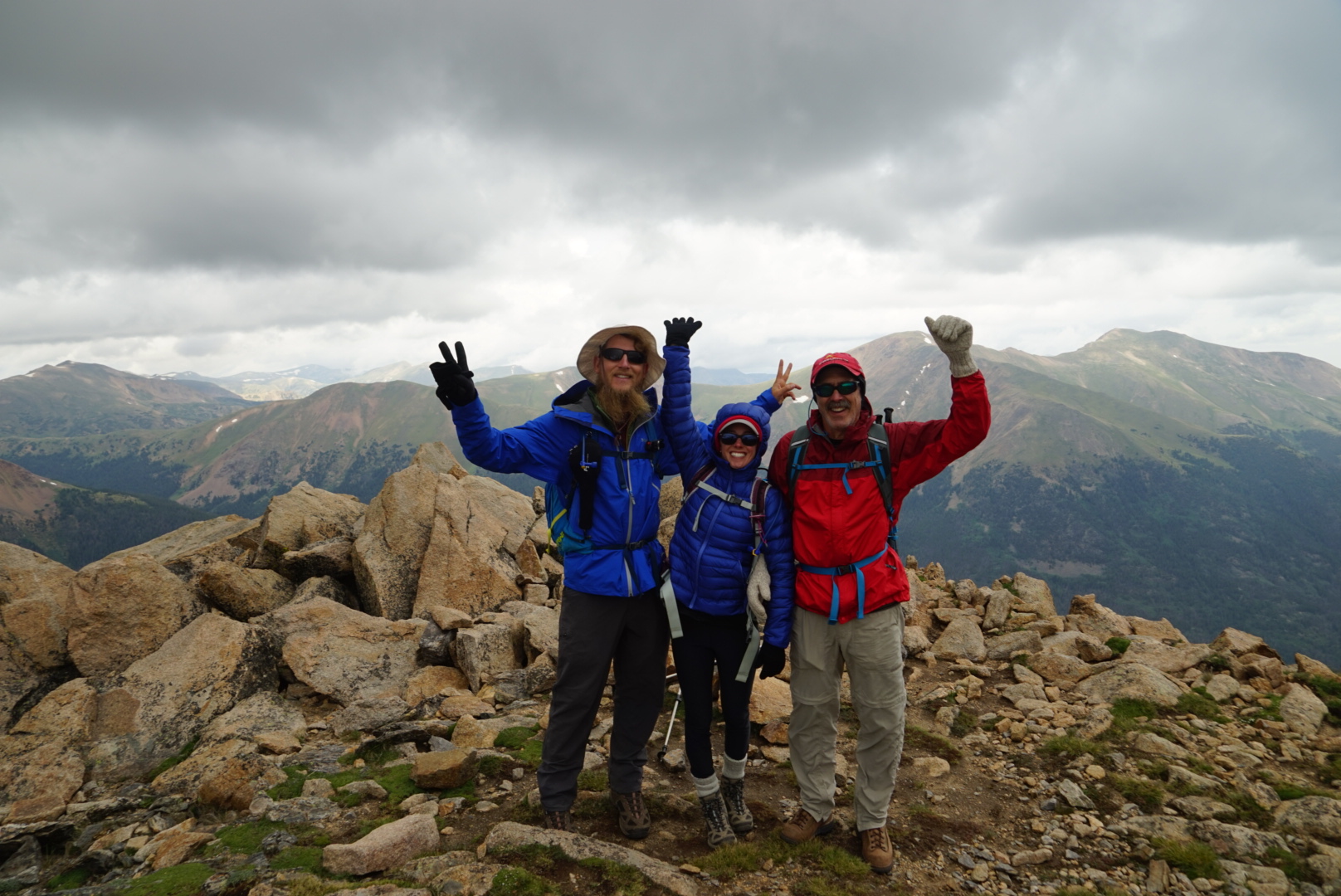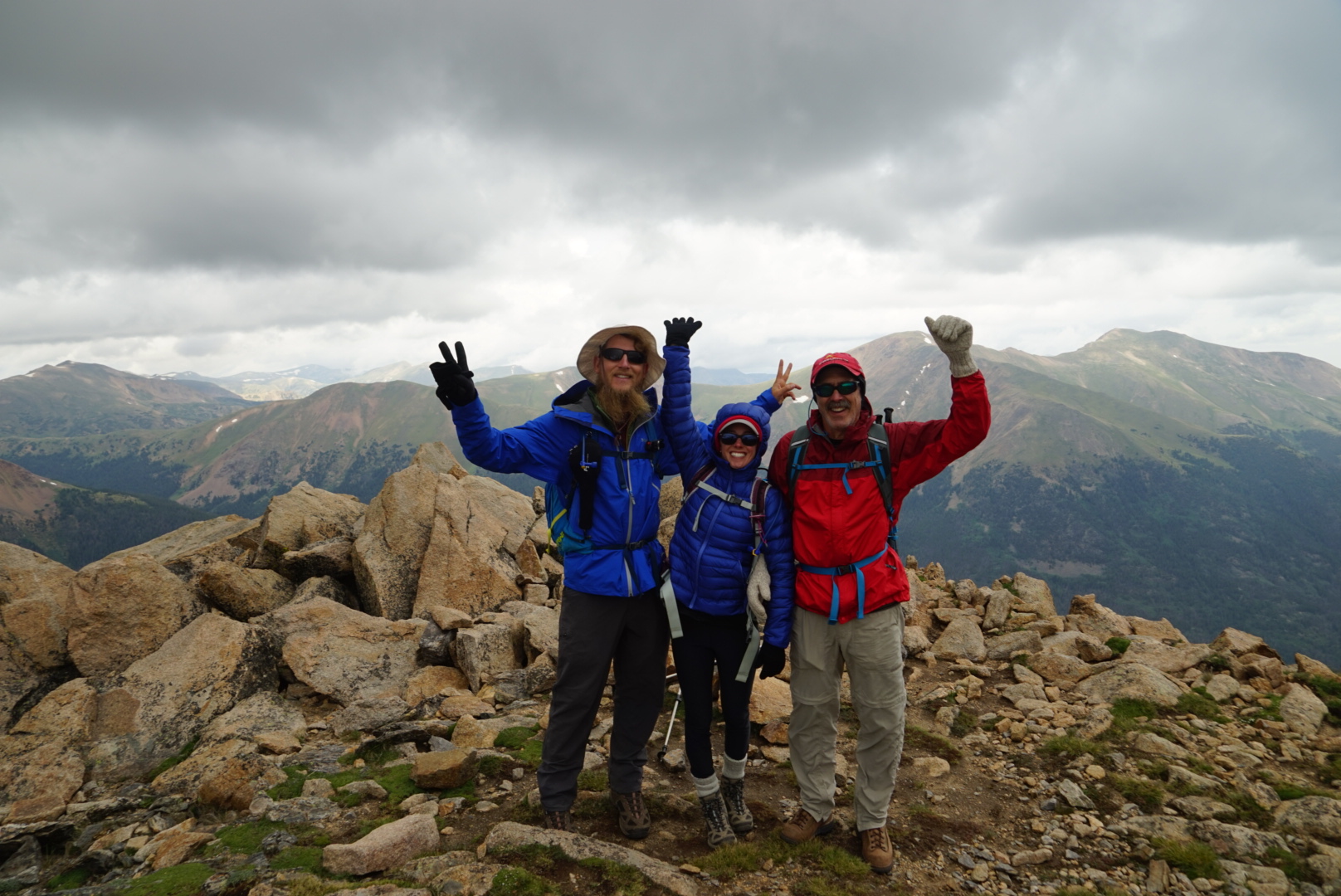 This hike is also closer to Brek and a great change of pace from the summit hikes mentioned above. The trail can get tricky to follow so stay alert. Make sure to follow through on the last big push to Upper Mohawk where the trail will literally dead end into the gorgeous alpine lake.
Summit: 12,093'
7 mi RT
1,800' elevation gain